Jumbo Jet Longboard | Malibu Surf Board | Creative Army Surfboards | SLX Epoxy | Huge Volume Wave Machine
or make 4 interest-free payments of $280.00 AUD fortnightly with
More info
Special:
NEED HELP?

Stock Availability / Custom Orders / Chasing Something Else
Description
Jumbo Jet Longboard | Malibu Surf Board | Creative Army Surfboards | SLX Epoxy | Huge Volume Wave Machine
Check out these real-life scenarios: You haven't surfed in years, You are recovering from an injury or pregnancy, You feel under volumed and the struggle of paddling is real. You catch the wave but the surfboard so unstable you can't get to your feet. Your home break is weak and small most of the time. You might even be a big human that can still surf really well but there's not a surfboard out there that has enough foam/volume for you. If you are relating to any of these scenarios then the Jumbo Jet is here to get you fully stoked.
The Jumbo Jet has a 2 + 1 fin set up that turns easily thanks to the smooth lines of the round tail. Complimented by a tucked edge in the tail and modern rocker the Jumbo Jet accommodates the surfer that wants to go down the line, hit the section and move the board where ever it needs to go.
Throw in a little nose concave to help create lift for those heavier surfers allowing them to nose ride like a champ. The Jumbo Jet goes well in all conditions from small crappy beach breaks to beautiful points and steeper more challenging waves.
The shorter versions of the Jumbo Jet (7'2 and 8'0) will work a treat, they're like the 'big guys' shortboard. These boards are for anyone that needs a little bit of help increasing their wave count. The extra volume allows you to paddle with ease, get in early and give you more time to get to your feet. I'm so stoked on this board it's got my Dad back in the water in his Mid 60's after 10 years out due to injuries and it has got him frothing. Hope you get the same stoke. Enjoy! Josh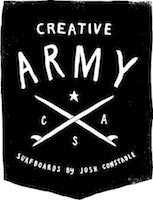 Single Centre Fin supplied: Custom Creative Army 7" Single Fin 7'2 or 8'0 / Custom Creative Army 8" Single Fin 9'0 or 9'6 (with FCSII Performer sides recommended as an additional purchase - Use "Boarddeal" at checkout to receive discount on surfboard accessories.)
Stock Availability
Generally in stock however if you need immediately please inquire before ordering as stock moves quick. We will call or email to confirm all surfboard orders to let you know the status & finalise any details.
Surfboard Delivery
Delivery included to most major cities. TAS and WA extra $50. Remote and regional areas may be subject to a courier quote. Business address preferred. Surfboards cannot be delivered through Australia Post to PO Boxes.
Recommended Skill Level
Click on image for more information
Surfboard Guides
Click on image for more information
Customer Reviews
This product hasn't received any reviews yet. Be the first to review this product!
Write a Review
Shipping Details
Same Day Shipping for orders placed before 3pm, Surfboards & Covers may incur an extra day, if you have any time constraints please contact us by phone or email.
---
Surf Hardware Shipping

Orders $1 to $29 | $10 Shipping Fee (Normal Post)
Delivery 2 to 5 Days
Orders $30 to $59 | $6 Shipping Fee (Normal Post)
Delivery 2 to 5 Days
Orders $59 to $99 | FREE Normal Shipping
Delivery 2 to 5 Days
Orders Over $99 | FREE Express Shipping
Delivery 1 to 3 Days

WA & NT: Maybe incur 1 to 3 days extra.
Surfboard covers can't be express shipped, just normal post.
---
Surfboard Shipping

FREE Shipping | All Size Surfboards
Delivery 2 to 5 Days* | Allow 1 to 2 days packing time just in case
FREE Shipping Insurance included

All surfboard orders are packaged very carefully & use the most trusted freight carriers. We understand the importance of your surfboard arriving safely.
*Remote locations may incur additional shipping costs. Surf Shops Australia will advise you of any additional costs & you are welcome to proceed or cancel your order.
Shipping details will be provided once your surfboard is shipped, freight carrier & tracking details
Surfboards take one day to ensure safe packaging & logistics. Available stock isn't guaranteed but we understand the importance of communication, making sure you know your order status.
---
Delivered to your Door



---
More Information
All orders are shipped off the same day where possible. Any order that need to be placed are processed the same day
Surf Shops Australia stocks a large range of Surf Gear. We therefore normally have what you need immediately. However due to seasonal demand & supplier stock levels this can change. Customer orders that are unavailable or delayed due to supply will be contacted with the details. Customers can change their order or receive a refund at this time. In the case of last minute changes Surf Shops Australia must be notified before goods have been shipped.
We make shipping surfboards & accessories hassle free for our customers. Surfboards are packaged very carefully to ensure safe delivery. Surf Shops Australia has been shipping Surf Gear domestically, internationally & understands the importance of your goods arriving safely. In the case of any damaged goods due to freight please contact Surf Shops Australia within 4hrs (If possible) to rectify the problem.