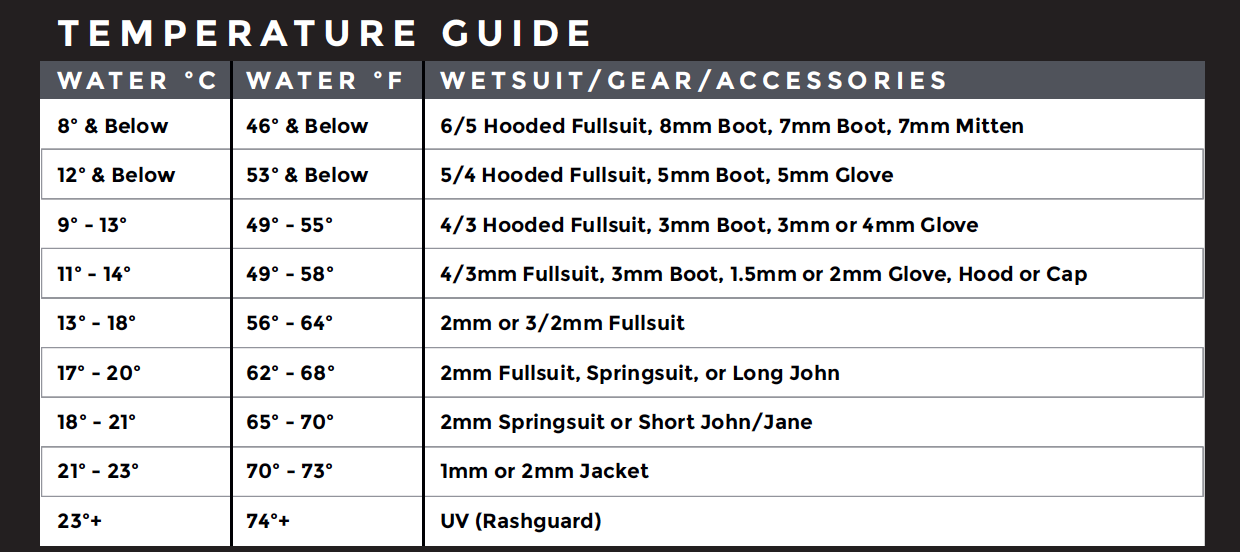 For use as a general guide only.


Factors to consider
Many factors beside water temperature have an influence on how warm or cold you feel in the water:
Body temperature
Sensitivity to temprature
Air temperature
Session length
Wind speed (Smooth Skin will protect you from wind chilli)
Wetsuit Fitting & Model
The better your wetsuit fits the warmer you will be. A good fit increases your wetsuits capacity to hold heat, less flush throughs & cavities that hold water (water cavities will transfer heat from your body to this water making you colder). Wetsuit brands have different size patterns. So find the best size match for your body size. You can look at the size guide of each wetsuit brand & make the right decision for you. See below for our premium brands below, Xcel & Ocean and Earth wetsuit.
Premium wetsuit models will have additional features that again increase the wetsuits ability to retain heat keeping you warmer for longer. Premium wetsuits also have more flexibility built in with ultra stretchy jersey (outer wetsuit lining) that allows these wetsuits to hug you body better, moulding to individual body shapes & therefore producing a better fit with more warmth & comfort (better fit as mentioned above). Premium model wetsuits will be better suited to the colder end of the temperature guide range & basic wetsuits will be warmer end of the temperature guide.
It's better to be overly warm than to cold, you can always cool down by letting some water in but there's no real way to increase temperature without wasting energy by paddling around like a mad man or woman.
---
Wetsuit Size Guide | Xcel
| Sizes | XSmall | Small | Medium Short | Medium | Medium Tall | Large Short |
| --- | --- | --- | --- | --- | --- | --- |
| Height (cm) | 162 - 167 | 167 - 172 | 170 - 175 | 172 - 177 | 180 - 185 | 170 - 175 |
| (ft) | 5'4 - 5'6 | 5'6 - 5'8 | 5'7 - 5'9 | 5'8 - 5'10 | 5'11 - 6'1 | 5'7 - 5'9 |
| Weight (kg) | 57 - 61 | 61 - 68 | 66 - 72 | 70 - 77 | 75 - 82 | 75 - 82 |
| Chest (cm) | 90 | 94 | 96 | 99 | 99 | 104 |
| Waist (inch) | 29" | 30.5" | 31.5" | 32.5" | 32.5" | 34.5" |
| | Large | Large Tall | XLarge | 2XLarge | 3XLarge |
| --- | --- | --- | --- | --- | --- |
| Height (cm) | 177 -183 | 185 - 191 | 180 - 185 | 183 - 191 | 185 - 198 |
| (ft) | 5'10 - 6'0 | 6'1 - 6'3 | 5'11 - 6'2 | 6'0 - 6'3 | 6'1 - 6'6 |
| Weight (kg) | 79 - 86 | 84 - 91 | 86 - 93 | 93 - 100 | 102 - 115 |
| Chest (cm) | 104 | 104 | 109 | 114 | 124 |
| Waist (inch) | 34.5" | 34.5" | 36.5" | 38.5" | 42.5" |
---
Wetsuit Size Guide | Ocean and Earth
| Sizes | Small | Medium | Medium Tall | Large | XLarge | 2XLarge |
| --- | --- | --- | --- | --- | --- | --- |
| Height (cm) | 173 - 178 | 175 - 180 | 180 - 185 | 178 -183 | 180 - 185 | 183 - 188 |
| (ft) | 5'8 - 5'10 | 5'9 - 5'11 | 5'11 - 6'1 | 5'11 - 6'1 | 5'11 - 6'1 | 6'0 - 6'2 |
| Weight (kg) | 61 - 70 | 68 - 77 | 75 - 82 | 77 - 86 | 86 - 95 | 95 - 104 |
| Chest (cm) | 93 - 98 | 98 - 103 | 98 - 103 | 103 - 108 | 108 - 113 | 113 - 118 |
| Waist (cm) | 74 - 79 | 77 - 83 | 77 - 83 | 83 - 88 | 88 - 93 | 93 - 98 |