Description
Surf Ears 3.0 | Premium Ear Plugs
SurfEars 3.0 is a revolutionary product developed by a team of professional product designers and dedicated surfers from Sweden. SurfEars recognised that the critical difference between SurfEars and other earplug products is they not only protect ears from water, cold air, and contaminants but also maximise sound and subsequent balance essential for most water and board sports.
Many of the earplugs on the market today block out sound, therefore large numbers of surfers choose to go without plugs. SurfEars was designed to keep the water out but also let the sound in, to enable users to stay connected to the environment.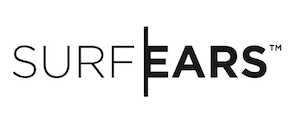 Features
ADDITION OF LEASH – An optional silicon leash is now attached to the plugs meaning there should be no excuses for losing plugs. Leash can be removed if customer prefers to surf without leash. Instructions on how to use leash included in the package.
IMPROVED ACOUSTICS

– Enlarged sound canal area means better hearing.

HYDROPHOBIC COATING – Improved hydrophobic coating on mesh.
BETTER FIT – New shape secures plugs inside the ear more securely. More contact points inside the ear.
IMPROVED WATER SEAL – Improved ear gel (ear bud) design provides a better fit for most users.The small gel is now smaller and the large gel is now larger fitting a greater range of ear sizes.Gel is now shorter providing a better fit for surfers with advanced ear canal closure.The outer ring on the gel is enlarged to provide an improved seal
New colour coded plugs to identify which ear is which
New look sealed container with holes to assist with drying out between uses
Customer Reviews
This product hasn't received any reviews yet. Be the first to review this product!
Write a Review
Shipping Details
Same Day Shipping for orders placed before 3pm, Surfboards & Covers may incur an extra day, if you have any time constraints please contact us by phone or email.
---
Surf Hardware Shipping

Orders $1 to $29 | $10 Shipping Fee (Normal Post)
Delivery 2 to 5 Days
Orders $30 to $59 | $6 Shipping Fee (Normal Post)
Delivery 2 to 5 Days
Orders $59 to $99 | FREE Normal Shipping
Delivery 2 to 5 Days
Orders Over $99 | FREE Express Shipping
Delivery 1 to 3 Days

WA & NT: Maybe incur 1 to 3 days extra.
Surfboard covers can't be express shipped, just normal post.
---
Surfboard Shipping

FREE Shipping | All Size Surfboards
Delivery 2 to 5 Days* | Allow 1 to 2 days packing time just in case
FREE Shipping Insurance included

All surfboard orders are packaged very carefully & use the most trusted freight carriers. We understand the importance of your surfboard arriving safely.
*Remote locations may incur additional shipping costs. Surf Shops Australia will advise you of any additional costs & you are welcome to proceed or cancel your order.
Shipping details will be provided once your surfboard is shipped, freight carrier & tracking details
Surfboards take one day to ensure safe packaging & logistics. Available stock isn't guaranteed but we understand the importance of communication, making sure you know your order status.
---
Delivered to your Door



---
More Information
All orders are shipped off the same day where possible. Any order that need to be placed are processed the same day
Surf Shops Australia stocks a large range of Surf Gear. We therefore normally have what you need immediately. However due to seasonal demand & supplier stock levels this can change. Customer orders that are unavailable or delayed due to supply will be contacted with the details. Customers can change their order or receive a refund at this time. In the case of last minute changes Surf Shops Australia must be notified before goods have been shipped.
We make shipping surfboards & accessories hassle free for our customers. Surfboards are packaged very carefully to ensure safe delivery. Surf Shops Australia has been shipping Surf Gear domestically, internationally & understands the importance of your goods arriving safely. In the case of any damaged goods due to freight please contact Surf Shops Australia within 4hrs (If possible) to rectify the problem.