Futures Fins Material Guide
HOW TO SELECT A CONSTRUCTION USING RIDE NUMBER
Each Construction that exists in the Futures line up, exists for a reason. When it comes to surfing, conditions are always changing. These changes often dictate the type of equipment you should be using. The same way you change your board to suit conditions, you should change your fins. Just check the Ride Number scale below and you'll see how each Construction we offer can benefit your experience. When the waves are pumping, start at the right side of the scale or lower Ride Numbers for a solid, engaged & predictable feel. When you're pumping, start at the left or higher Ride Numbers for a springy, fluid & responsive feel. For everything in between, look to the middle for a Balanced Construction with an all-around feel. Find your range and fine tune your ride!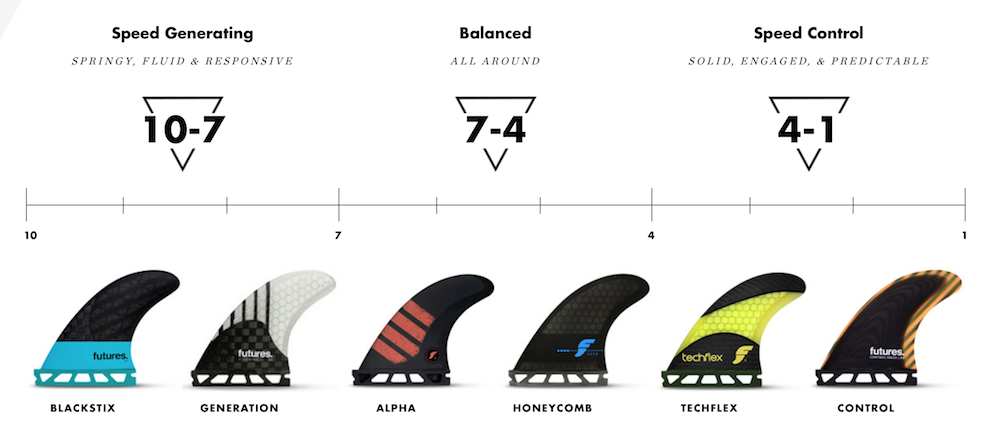 Blackstix 3.0
Same Spring - More Drive
For ten years Blackstix fins have been a staple in Futures line as a reliable way to generate speed and make your board feel more lively. Our new Blackstix maintain Ride Numbers in the Speed Generating range of 10 to 7, and are designed with new materials and engineered layup for an enhanced ride.

23 Degree
UNIDIRECTIONAL CARBON
We've added two layers of unidirectional carbon to the base of the fins, at an angle that controls how the tip of the fin bends and rotates. This makes Blackstix 3.0 hold better through power turns while feeling just as springy as Blackstix 2.0.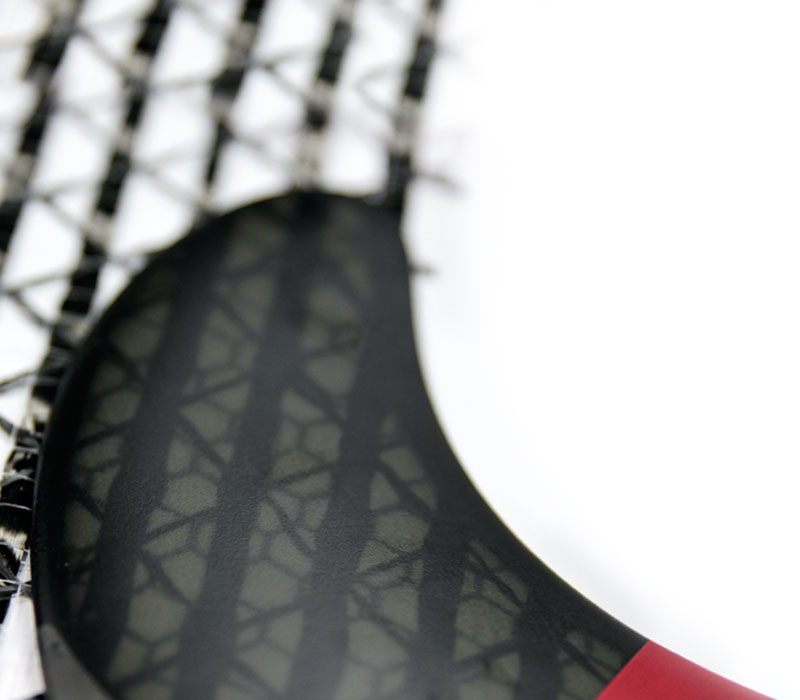 Asymmetrical
12 CARBON
We've put asymmetrical carbon panels on the inside and outside of the fin, while allowing only the carbon placed on the inside of the fin to climb completely to the tip. Having this carbon on both sides of the base creates a solid, drivey feel, but with carbon on the outside of the fin climbing only partially up the fin, the fin progressively flexes more as it gets closer to the tip. This gives a snappy feel to your board and enables the unique liveliness that only Blackstix can provide.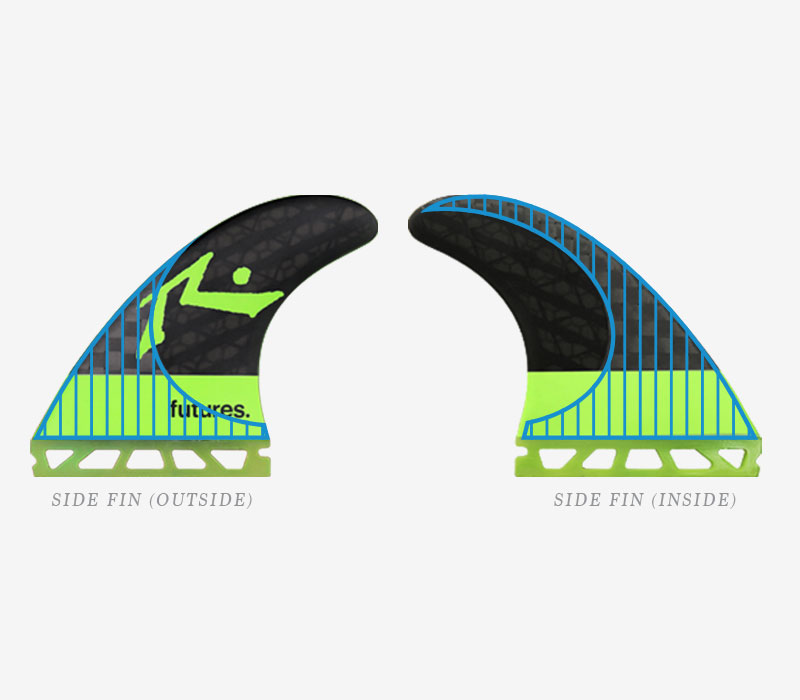 Epoxy Resin
STRONG. LIGHT. RESILIENT.
To add one more layer of performance to the Blackstix, we use epoxy resin. Epoxy resin is lighter, tougher & more resilient than polyester resin. These features all play a role in making the Blackstix the lightest & fastest fins in the world. As a bonus, epoxy emits 50-75% fewer VOCs (volatile organic compounds) than polyester resin, which means a decrease in harmful chemicals in our environment.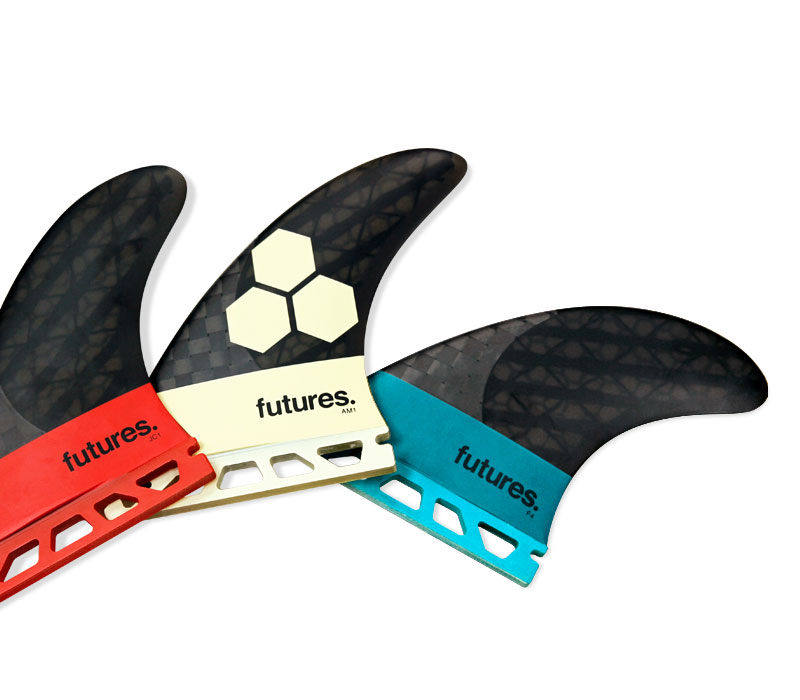 V2 Foil
SPEED GENERATING
Feel the stringer facing side of any leading fin in a Blackstix set, and you'll notice it feels curved near the base and trailing edge. This is one aspect of the V2 foil - a revolution in fin design over decade ago that is still improving how water flows across fins today. The V2 foil creates an easy feeling rail-to-rail linkage, so you can keep speed while setting up big manoeuvres down the line, even when the waves you're surfing lack power.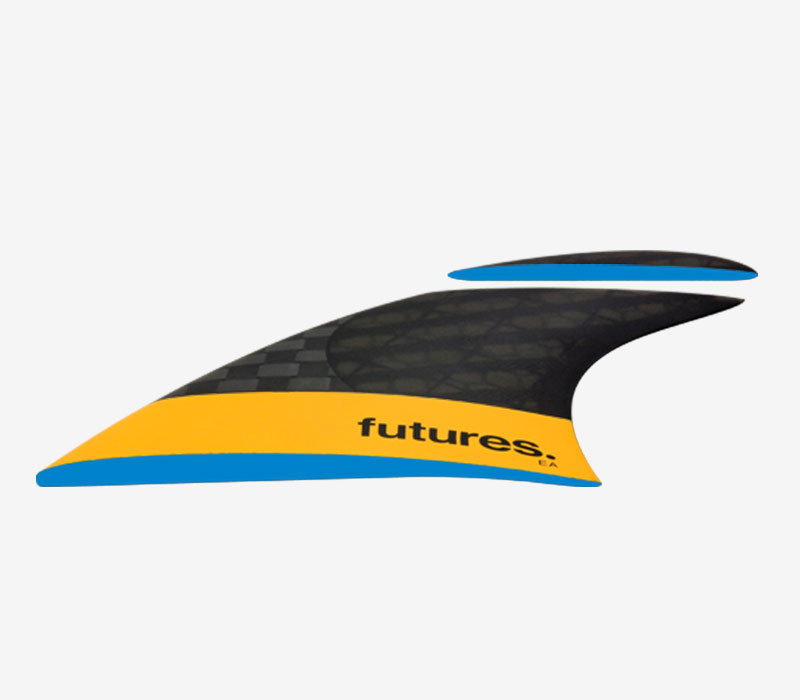 Generation Series
SPEED & SPRING + CONTROL & DRIVE
The next level in speed generating fins is here with the all new Generation Series. These fins will provide all the speed you need while maintaining an element of control. Sitting one notch below the Blackstix on our Ride Number scale, all Generation Series fins hold Ride Numbers between 9 to 7, for those of you looking for a bit more stability & drive than Blackstix.

V2 Foil
SPEED GENERATION
Futures V2 foil is the go to for Speed Generating fins. The foil enhances efficient water flow with its uniquely designed curved surfaces. The result is lift through all stages of the turn and buttery fluid rail-to-rail linkage, setting you up for peak performance even if the conditions are lacking push.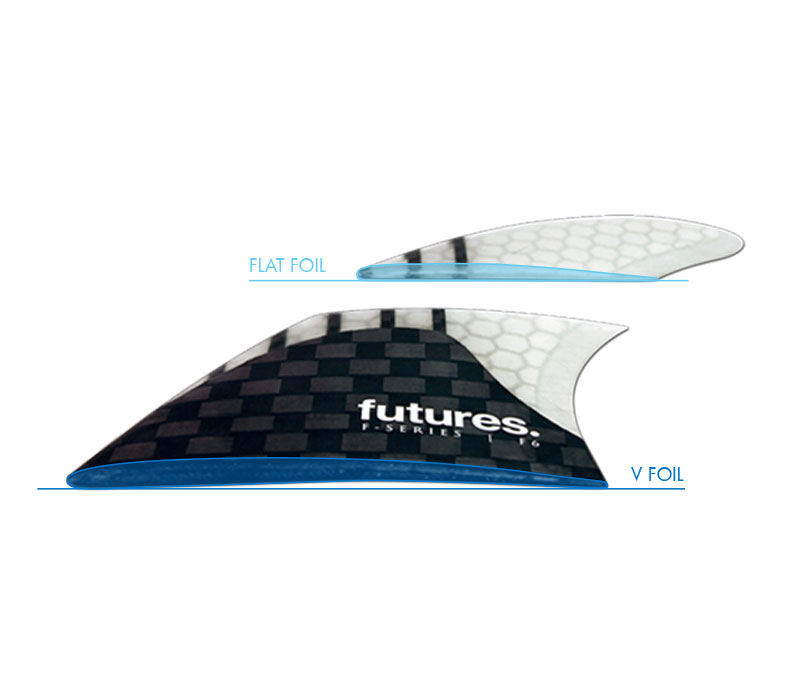 Uni-Fibreglass
CONTROLLED TIP FLEX
To control tip flex dynamics, we've uniquely oriented multiple layers of uni-directional fibreglass. The uni-fibreglass has more spring than normal bi-directional glass and it is woven with strands of visible poly-fibres that create more strength and control in the fin tip.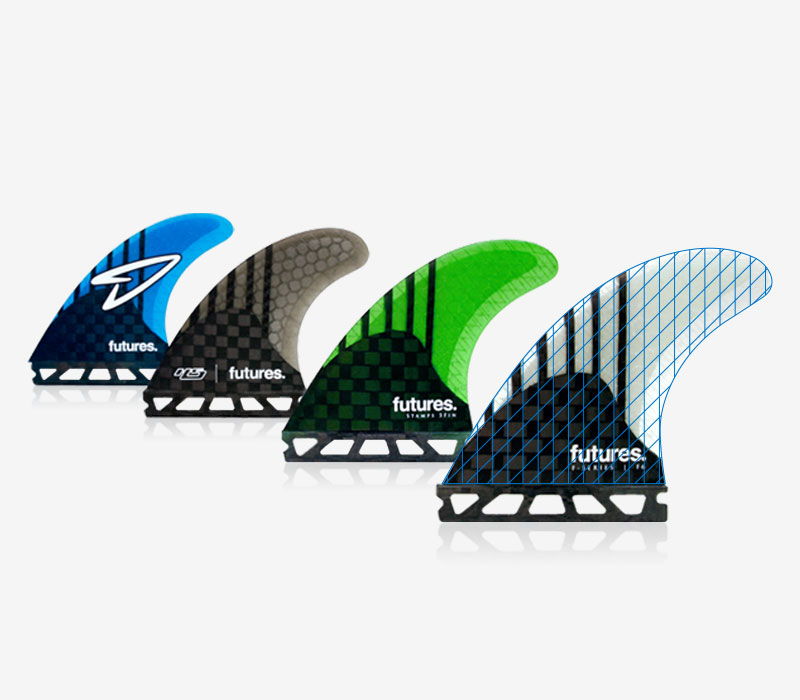 Uni-Directional
VERTICAL STRENGTH FOR A QUICK RESPONSE
Uni-directional carbon strips have been placed vertically across the front half of each fin. Acting as spines, this secures the leading edge and concentrates flex to the tip, giving the fin a snappy torsional twist. Additional strength in the right places allow the Generation Series to remain lightweight & strong.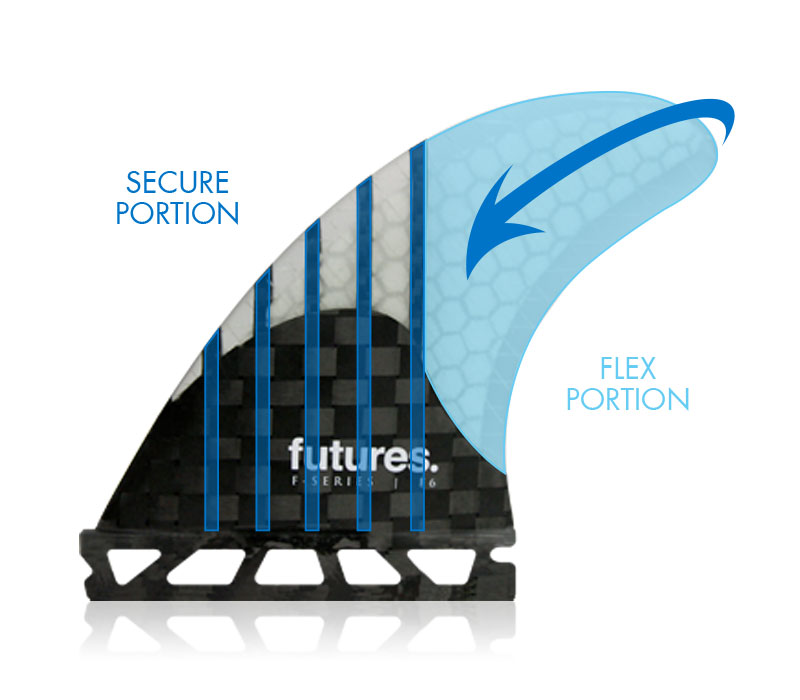 Epoxy Resin
STRONG. LIGHT. RESILIENT.
To add one more layer of performance to the Generation Series, we use epoxy resin. Epoxy resin is lighter & more resilient than polyester resin. These features all play a role in making the Generation Series a responsive, speed-generating fin, while retaining an element of control.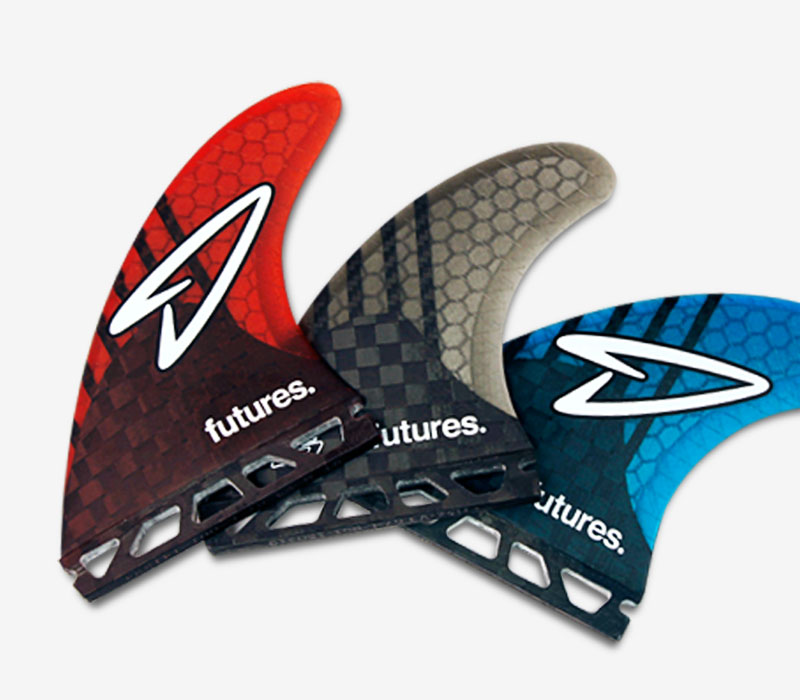 Bi-Directional Carbon
STRENGTH & DRIVE
Bi-directional 12K carbon panels cover the base on the inside and outside of the fin. This solid base creates drive and leaves the tip free to remain resilient. The combination is lightweight and stable, giving you both speed & power.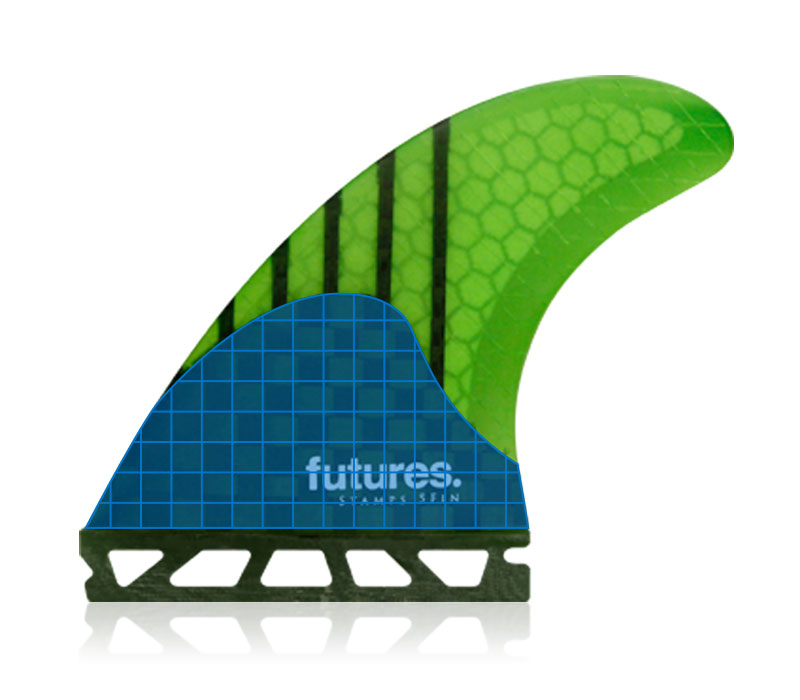 Honeycomb
ALL-AROUND PERFORMANCE
Honeycomb fins have a lightweight hexagonal core which reduces the weight and maintains the flex properties. These fins are engineered with a medium flex pattern, making them stiffer than Blackstix but more flexible than fibreglass. These fins have a Ride Number range of 4-7 and are great all around fins for any condition.

Honeycomb Core
THE CORE MATTERS
The hexagonal foam core mat in these fins reduces the resin content, making the fin lighter while keeping the fin stiff where it counts. This gives these fins a medium flex pattern making them a great all around performer. From mushy beach breaks to pumping reef points, honeycomb fins are the standard when it comes to upgrade fins.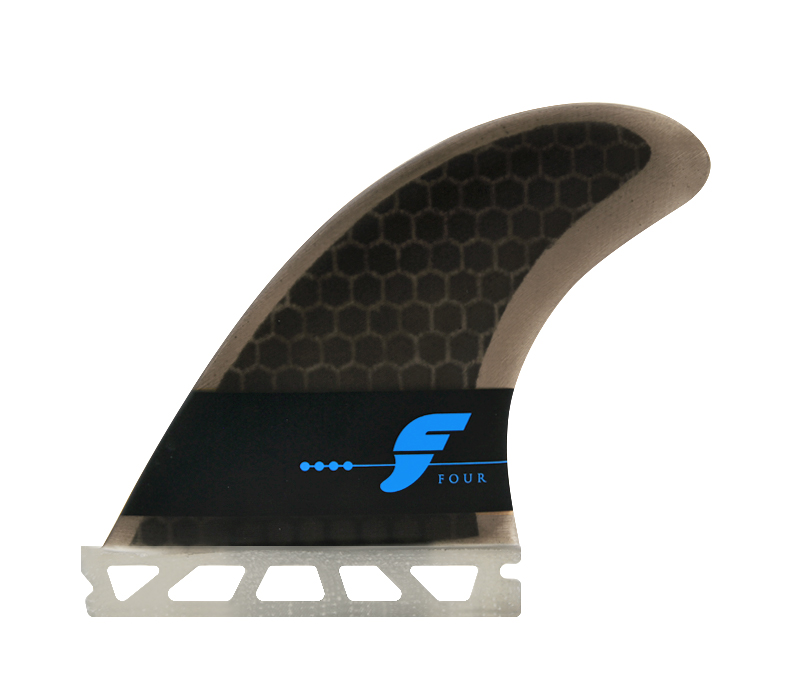 Balanced Performance
BALANCED CONSTRUCTION
The medium flex pattern of honeycomb fins makes this fin an all around performer. They have a Ride Number range of 4-7, putting them in the balanced category. Honeycomb is the go to fin for all around surfing. These fins are designed to gain drive down the line, maintain hold in turns, or boost airs in all conditions.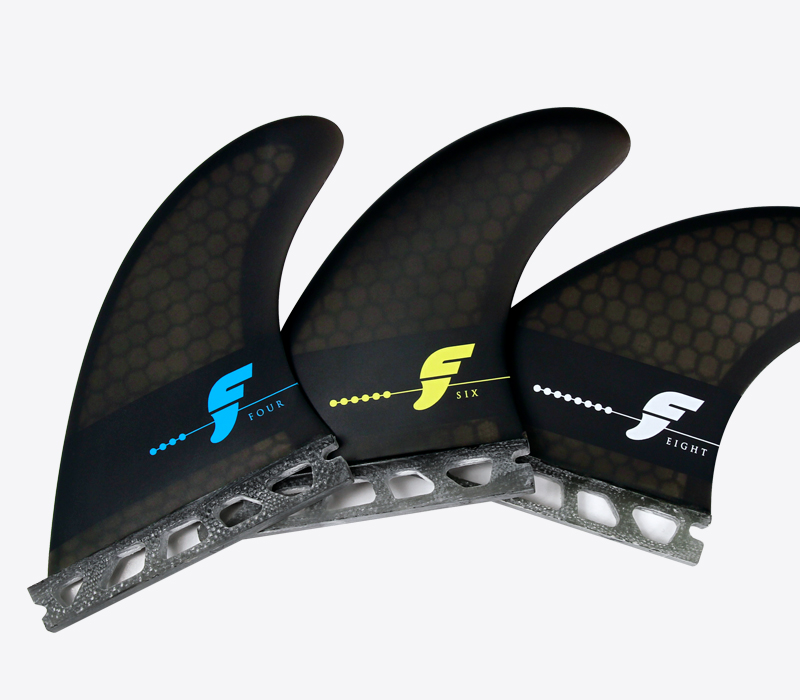 Techflex
LIGHT LIKE HONEYCOMB. STIFF LIKE FIBREGLASS.
Techflex fins are engineered to be stiff and light. These fins will give you a solid and engaged feel for those big drops, but be lightweight and responsive when engaging the rail. These fins sit above the fibreglass line and have a Ride Number range of 3-4.5. Techflex fins are great for powerful surfers or powerful conditions.

Stiff & Light
SPEED CONTROL + RESPONSE
Techflex fins are the perfect compliment for those who like big waves or power surfing, but want a little more spring off the lip. The honeycomb core makes these fins light while the carbon keeps them stiff and engaged. These fins are perfect solid rail turns and drive down the line, while being springy and responsive when needed.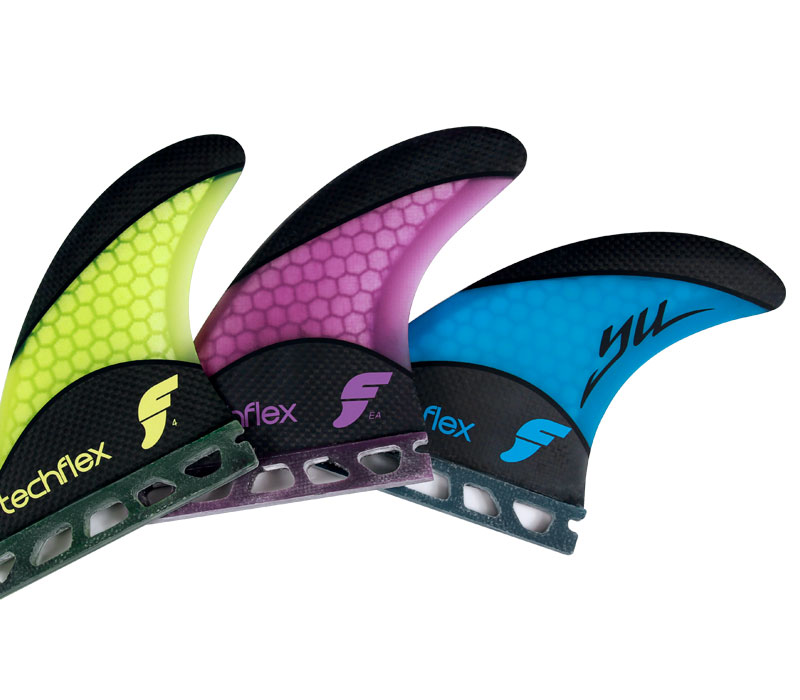 3K Carbon
CONTROLLED FLEX
3K carbon along the base and tip of these fins makes them light as honeycomb while maintaining the stiffness of fibreglass. This engineered flex creates a vertical flex pattern, which enables you to maintain control and drive down the line while being lively and free off the lip.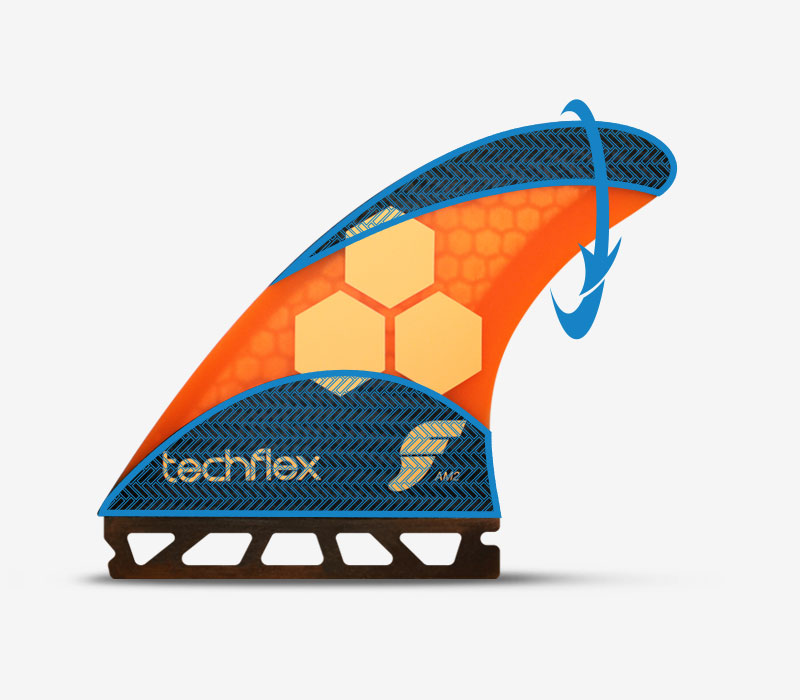 Alpha
CARBON LIKE YOU'VE NEVER SEEN IT BEFORE
Lightweight fins made in Huntington Beach, California
Molded carbon fibre made in Huntington Beach, California that delivers every bit of performance you'd expect from an upgrade fin at a Balanced Ride Number. Incredibly lightweight & resilient, Alpha is the first of its kind; created using one-of-a-kind materials and new technologies developed by Futures.

Compound 6
CARBON & AIR INFUSED
We have developed a brand new material blend that is lighter than Honeycomb and the next step in innovation for Futures. Infused with the resiliency of carbon fibre and the lightness of air, this is the most advanced injection fin material ever created. Working with the talented team at 3M, we were able to combine two key features that make our exclusive material so impressive:
Carbon Infused
LIGHTWEIGHT & RESILIENT
First, we infused carbon fibre which has a higher strength to weight ratio than fibreglass. By replacing fibreglass with carbon fibre, the Alpha line is more lightweight & resilient than your standard fibreglass or plastic injection fins.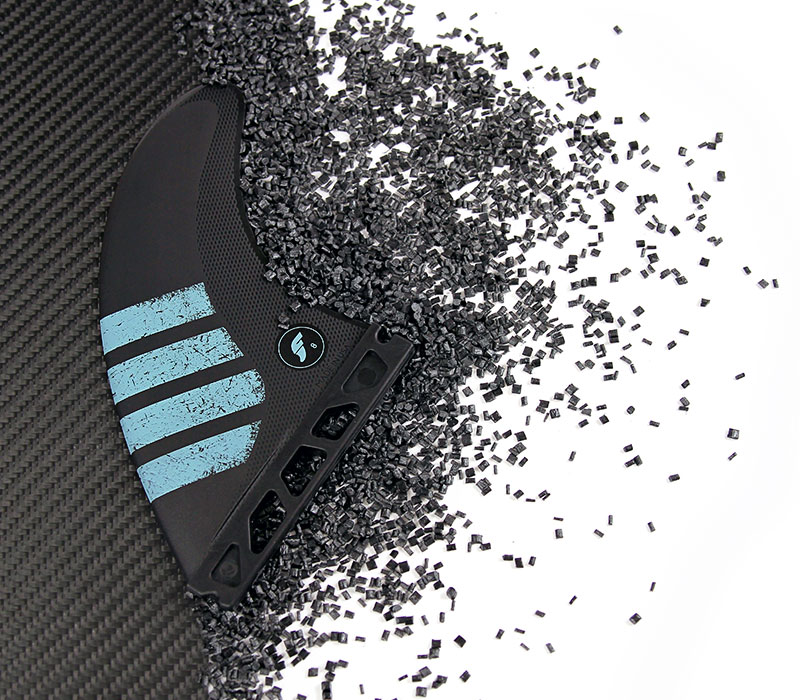 Air Infused
LIGHTWEIGHT & STRONG
Second, we infused air. Yes, air! With our friends at 3M, we were able to develop a one-of-a-kind composite material that creates air pockets in the fin to reduce weight without sacrificing structural integrity.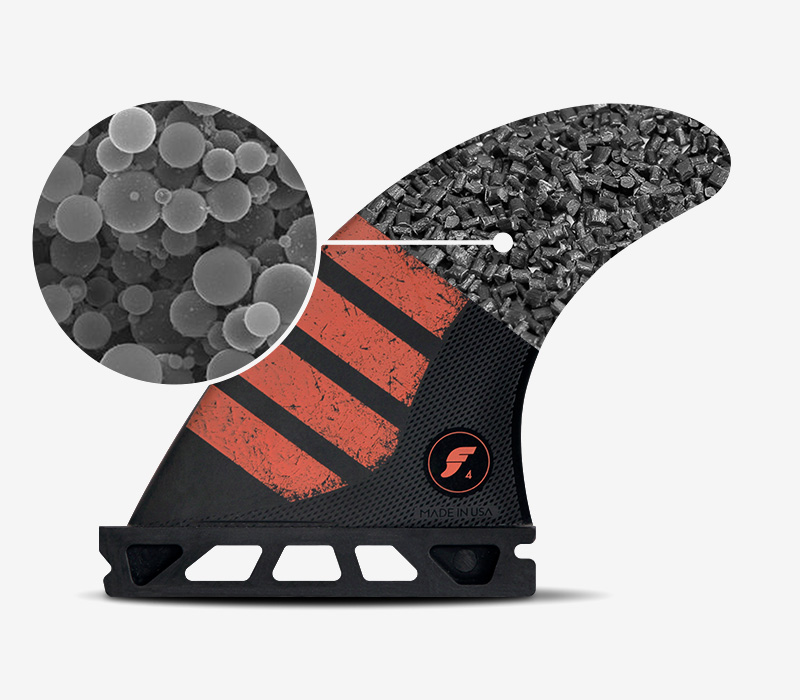 Flow Texture
DECREASED DRAG & FIN HUM
After testing various surface geometries behind a jet-ski, we found a 3D flow texture that controls the separation pattern and influences the boundary layer to reduce the hydrodynamic turbulent wake drag. The result is a more predictable and efficient flow with a significant reduction in the audible whistle heard while surfing called "fin hum."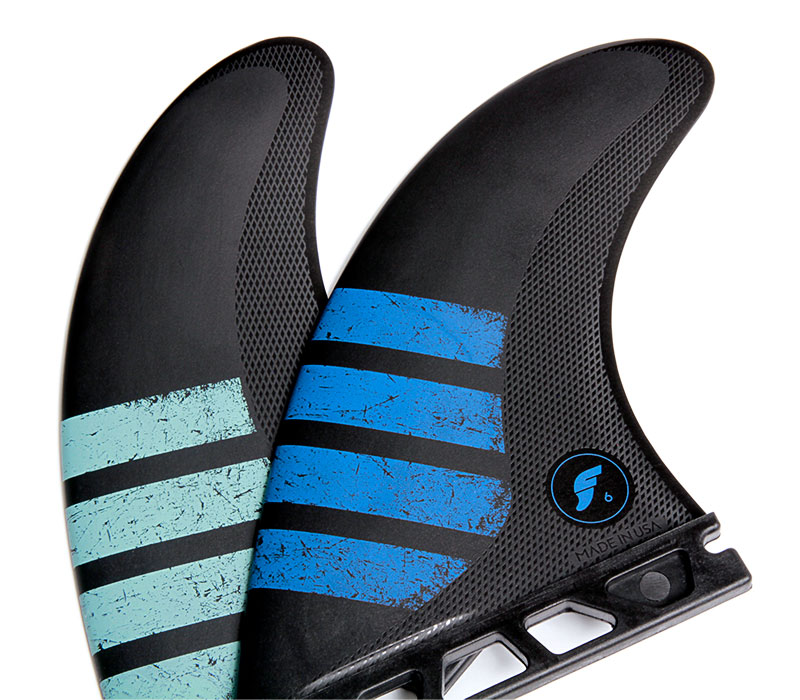 Re-designed Flex
STABLE BASE. SPRINGY TIP
With the added resiliency & strength of carbon fibre, we were able to go back to the drawing board and restructure the profile geometry of our Alpha line. The strength of the fibres allowed us to modify the flex pattern by removing material from tip for more spring and adding it to the base for more drive.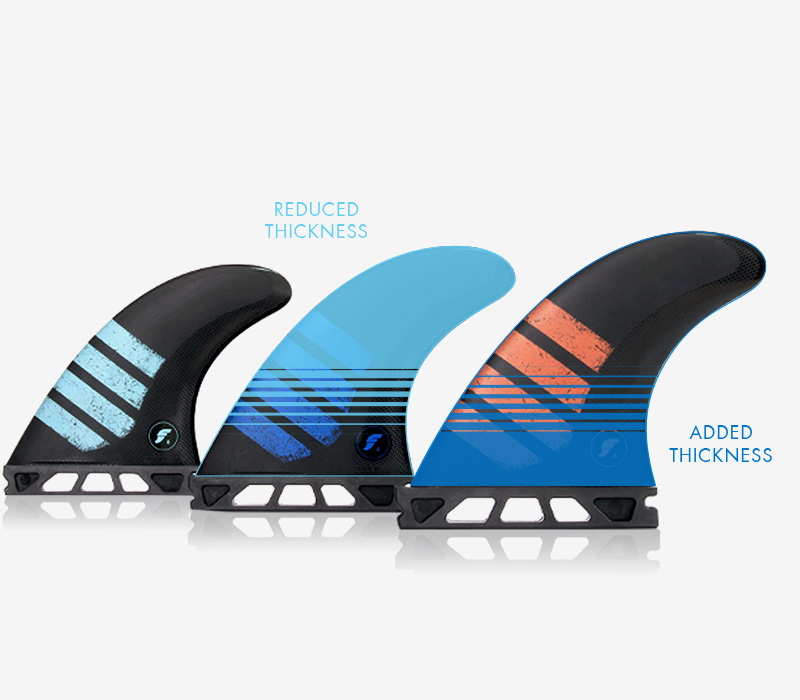 Precision Tooling
STEEL MOLDS MADE IN-HOUSE
At Futures, we're professional mold makers. Have been since day one. We designed, cut & polished molds for the Alpha line at our headquarters in Huntington Beach. This level of involvement with our product is what allows us to push beyond the boundaries of what's expected from your surf equipment.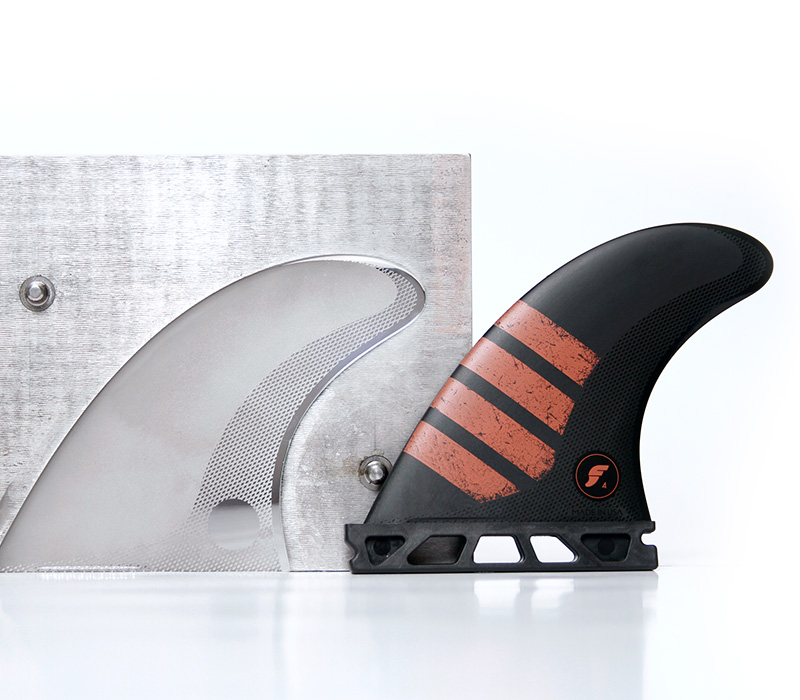 Flat Foil
RELIABLE AND FAMILIAR
The Flat Foil is the most available foil in the Futures line and is a very reliable option for all conditions. You will find that they work especially well when making late drops or stalling for the barrel are your primary concern because of their controlled and stable feel.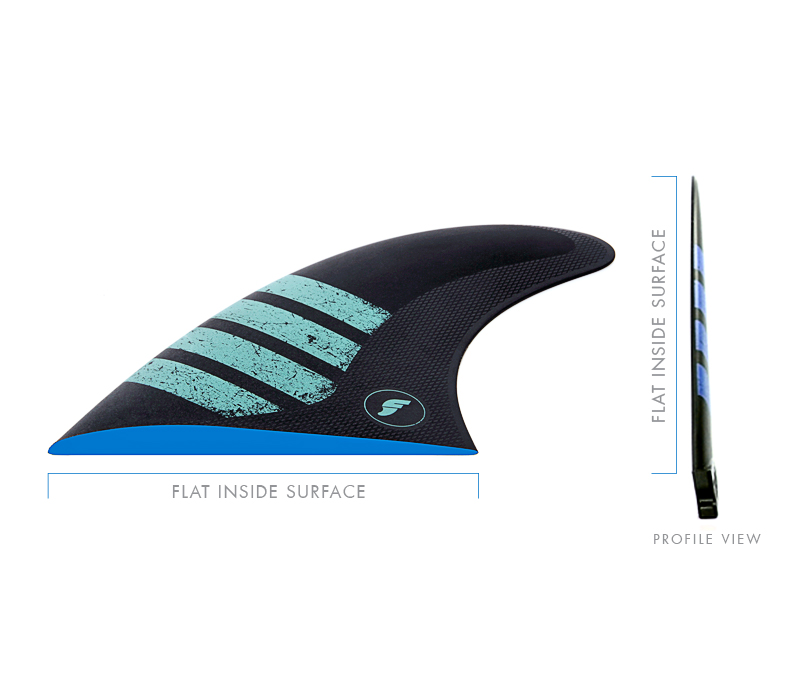 Thermotech Fin Construction
Futures Fins price point moulded high grade plastic composite.