Pocket Rocket Proformance | Round Tail | Lost Surfboards
Special:
NEED HELP?

Stock Availability / Custom Orders / Chasing Something Else
Description
Pocket Rocket Pro-Formance | Round Tail | Lost Surfboards
The Pocket Rocket was first developed for Kolohe Andino, for the varied beach breaks of Europe, in 2015. After years of mostly riding only Drivers and Sub Drivers, he requested a board with a new rocker that "fits more in the pocket, and lets me push hard, but still fast in the flats". Quite a challenge. We made a few and I scribbled "PocketRocket" on them. Out of the gate he netted a QF finish (Azores) and a Win (Cascias) in back to back 10k WQS events. He then went on to solid runs in the France and Portugal WCT events. It's built around a smooth, continuous rocker, to fit in the "pocket", with enough concave cutting through it to "rocket" down the line and across flats. With plenty of tail curve, the "Pocket Rocket" turns tight and whippy off the tail, but with a relaxed enough curve forward to still project and connect.
The Pocket Rocket was quickly adopted under the feet of most of our team and various traveling Pros. It also became popular with the Bros, when we introduced the "EDD" (Every Day Dims) for average surfers wanting to ride HP designs. In 2016, Joan Duru rode a quiver of Pocket Rockets to qualification on the WCT. Young phenom, Yago Dora, has been on a tear this year...winning the Newcastle Pro and famously taking down 3 World Champs en route to a semi final finish in The Oi Rio Pro, as a wildcard, on a board quiver of round tail Pocket Rockets. Almost our entire team, from the legendary Taj Burrow to San Clemente's exciting and explosive Griffin Colapinto, regularly ride Pocket Rockets since their inception just two years ago. Most of Mason Ho's magical Indonesian and Hawaiian antics have been performed on board a Pocket Rocket. Living Icon Bruce Irons and future Icon Jack Robinson are also Pocket Rocket riders. The Pocket Rocket has essentially become our status quo High performance...or should I say "Pro-formance" shortboard.
Available stock in Kolohe style squash (easier in softer surf or for lead footed surfers) or Yago's favourite round tail (great in more powerful surf, or for a more finesse based surfer).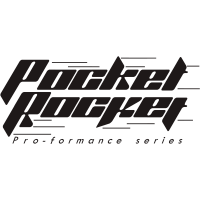 ---
Pocket Rocket Round PU / Stock Surfboard Specifications
| | |
| --- | --- |
| Tail Shape | Round |
| Fin Setup | Thruster Fin Setup |
| Construction / Glassing | Standard PU 4x4x4 / Fuse Carbon Tail Patch |
| Concave | Single |
| Rails | Medium |
| Rocker | Entry: Medium / High | Exit: Medium / High |
Note: Fins not supplied, use promo deal for a good set.
---
Custom Extra's - Lost Oz / Construction Extra's / Logo Placement
Carbon Strip Top + $60
Carbon Strip Bottom + $60
Fused Carbon Strip Top + $75
Fused Carbon Strip Bottom + $75
Fused Carbon Tail + $40
S Cloth Top + $35
R4 Channels + $90
Logo Placement Details - Click Here
Note: Custom extra's / logo placement can be added to the order notes section & payment will be finalised when order is confirmed over the phone.
---
Surfboard Availability
We have a large range of surfboards in stock however if you need your board immediately please double check with first as stock moves quickly. We call or email all board orders to confirm the availability, status & finalise any details. For more info on custom board orders please call or message. All order notes please add to the Order / Custom Notes above or use the comments section when checking out.
In Stock: Immediate Shipping / Allow one days for careful packaging
Production: 1 to 2 weeks / Surfboards earmarked in production, near completion.
Customer Orders: Allow 4 to 5 weeks + Delivery (see shipping tab below for more info)
All orders will be confirmed over the phone or email to finalise details!
---
Recommended Skill Level

Click on image for more information

Click on image for more information
Pocket Rocket Pro-Formance Round - Video
Customer Reviews
This product hasn't received any reviews yet. Be the first to review this product!
Write a Review
Shipping Details
Same Day Shipping for orders placed before 3pm, Surfboards & Covers may incur an extra day, if you have any time constraints please contact us by phone or email.
---
Surf Hardware Shipping

Orders $1 to $29 | $10 Shipping Fee (Normal Post)
Delivery 2 to 5 Days
Orders $30 to $59 | $6 Shipping Fee (Normal Post)
Delivery 2 to 5 Days
Orders $59 to $99 | FREE Normal Shipping
Delivery 2 to 5 Days
Orders Over $99 | FREE Express Shipping
Delivery 1 to 3 Days

WA & NT: Maybe incur 1 to 3 days extra.
Surfboard covers can't be express shipped, just normal post.
---
Surfboard Shipping

FREE Shipping | All Size Surfboards
Delivery 2 to 5 Days* | Allow 1 to 2 days packing time just in case
FREE Shipping Insurance included

All surfboard orders are packaged very carefully & use the most trusted freight carriers. We understand the importance of your surfboard arriving safely.
*Remote locations may incur additional shipping costs. Surf Shops Australia will advise you of any additional costs & you are welcome to proceed or cancel your order.
Shipping details will be provided once your surfboard is shipped, freight carrier & tracking details
Surfboards take one day to ensure safe packaging & logistics. Available stock isn't guaranteed but we understand the importance of communication, making sure you know your order status.
---
Delivered to your Door



---
More Information
All orders are shipped off the same day where possible. Any order that need to be placed are processed the same day
Surf Shops Australia stocks a large range of Surf Gear. We therefore normally have what you need immediately. However due to seasonal demand & supplier stock levels this can change. Customer orders that are unavailable or delayed due to supply will be contacted with the details. Customers can change their order or receive a refund at this time. In the case of last minute changes Surf Shops Australia must be notified before goods have been shipped.
We make shipping surfboards & accessories hassle free for our customers. Surfboards are packaged very carefully to ensure safe delivery. Surf Shops Australia has been shipping Surf Gear domestically, internationally & understands the importance of your goods arriving safely. In the case of any damaged goods due to freight please contact Surf Shops Australia within 4hrs (If possible) to rectify the problem.